SSORC: Brand new Patrice steals the show

Tony Kirby has sailed his brand new Ker 46, Patrice, to victory, stealing the show from Darryl Hodgkinson's Victoire for a second time in the Sydney Short Ocean Racing Championship (SSORC) hosted by Middle Harbour Yacht Club.

Having lost third place to Patrice in the Cabbage Tree Island Race earlier this month, Hodgkinson had his Cookson 50 nicely positioned in the lead coming into today's final two races of the SSORC. However, his fifth in Race 2 and fourth in Race 3 could not compete with Patrice's win and second place respectively.



Patrice powered up to win Division 1 in the SSORC - Andrea Francolini, MHYC
Middle Harbour YC locals got their own back too, when Bob Cox's Nine Dragons also leapt past Victoire to claim second place, the DK46 pulling second and third places in the two races which were sailed in mixed conditions."The forecast was for 8-10 knots, but a squall came through offshore in the first race and we saw 16-18 knots on the dial and the wind was going left and right," said Tony Kirby who was ecstatic with his new yacht's performance and his first regatta win.
"

Nine Dragons finished second overall - Andrea Francolini, MHYC
Coming into the SSORC, we had only done the Cabbage Tree Island Race, so we're really excited to win our first race (today) and the regatta," Kirby, from the Cruising Yacht Club of Australia said.
It was very light in the second race (a two lap windward/leeward course), and swinging 20-30 degrees. If Patrice was going to have a weak point, I thought light air would be it, but no, she handled it so well. I'm so happy with the boat and feeling confident with the Southern Cross Cup and Hobart coming up."
According to Kirby, "Victoire was always there. We beat her out the Heads and up to the next mark, then she overtook us downwind. It was very close," he said of Hodgkinson's boat, which beat them to the punch on line by just over a minute, but Kirby collected on corrected time by just over three minutes.
In Race 3, the windward/leeward, Patrice was outgunned by Steven Proud's Kernan 44, Swish. "They sailed really well in the tricky breeze; they deserved to win," Kirby said.
In Division 2, Phil Dash cleaned up with his Beneteau 40, Just a Dash, continuing his winning form of yesterday, finishing second in Race 2 of the series today and moving up a notch to claim victory in the windward/leeward Race 3. After protests were heard, Andy Kearnan's Summit 35, L'Altra Donna, prevailed to finish second overall with Nigel Smyth's Mat 1010, Tomato third overall.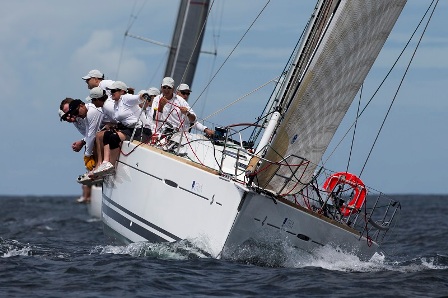 Just A Dash - well named Division 2 winner - Andrea Francolini, MHYC
"It was very hard sailing today – the wind was all over the place and we got more than we bargained for when the wind squall came through in Race 2," Phil Dash, from the host club said. "We were over early at the start of Race 2, and had to return, but we clawed our way back," he said.
"It was very tricky and shifty, but the boat went well the whole time. We've been sailing the boat well for a time now, but we had very good opposition from especially L'Altra Donna (which won Race 2 from Just a Dash by a mere 23 seconds), so it's a good result to win the regatta," Dash admitted.

L'Altra Donna, which finished second in Division 3 last year, bounced back from fourth place yesterday to claim victory in Race 2 and second place in Race 3, which lifted her up onto the podium.

L'Altra Donna in good form - Andrea Francolini, MHYC
The top three in the Performance Class are provisional only, as there are protests being held that could affect the current top two results, which show Never A Dull Moment (Colin and Denise Wilson) first, Walter Carpenter's Samarkand in second and Thompson Moore's Shibumi third. Official results will be known after the protests are heard.

For full SSORC results, including divisional placings, go to: www.ssorc.mhyc.com.au
Di Pearson, MHYC Media
Media Enquiries:
Di Pearson,
Middle Harbour Yacht Club media
Email: This e-mail address is being protected from spambots. You need JavaScript enabled to view it
Phone: 0410 792 131
High res photos available via Andrea Francolini – www.afrancolini.com

Transfusion leads Farr 40 One Design Trophy
Olympic gold medallist and America's Cup winning strategist Tom Slingsby worked his magic on day one of the Aberdeen Asset Management Farr 40 One Design Trophy as tactician on Guido Belgiorno-Nettis' Transfusion.
This evening, Saturday November 30th, Transfusion holds a slender lead over Lloyd Clark's Voodoo Chile after four races.
Transfusion's innings opener was shaky. They narrowly avoided a collision with Martin and Lisa Hill's Estate Master and made sure the race officials on the start boat were fully awake at the start of the maiden race of the two-day series.
"The crew had to fend off to stop us hitting the start boat," said Belgiorno-Nettis. "We did our penalty turn and started last; to come back to second in that race was quite an achievement. Tom [Slingsby] applied his magic, he found us the right lifts and knocks and we got back in synch."
It's been years since Belgiorno-Nettis and Slingsby paired up. Slingsby's Olympic and big boat campaigns have kept him pretty busy in the last couple of years. The last time he was on a Farr 40 was for the 2011 Rolex Farr 40 Worlds in Sydney sailing on Estate Master.
"That was my last time sailing with a spinnaker pole," Slingsby said dockside this afternoon at host club, Middle Harbour Yacht Club. "It was excellent to get back in the class today; there are lots of familiar faces and friends".
Oodles of experience, a cool head, and an uncanny ability to read the wind are fundamental to Slingsby's brilliance. He reckoned patience won today. "It was a tricky day. Racing in a southerly up to Watsons Bay top mark you had to really stay patient. It was a case of 'my turn your turn'. The ones who did well were the ones who waited for the shifts".
Belgiorno-Nettis also paid tribute to trimmer Joe Turner, a champion Moth sailor who grew up with Slingsby and has added his name to Transfusion's crew list aiming for next year's worlds in San Francisco.
"The visitors have come and tomorrow we will give our nemesis, the 'Tasmaniacs' a good run for their money," the Australian Farr 40 class president warned.
'Tasmaniacs' is Belgiorno-Nettis' term of endearment for the Voodoo Chile crew who are sitting in second by one point. Given the tight margin the young component of the crew have been instructed not to hit the town tonight by the older, more sensible heads. "They don't usually take any notice so I can't guarantee anything," laughed owner Lloyd Clark.
"We are pretty happy with our results," he added. "Conditions were difficult but our crew did a fantastic job. It was a very difficult for the tacticians, the wind was shifting and changing direction quite often."
On taking on the strong Sydney contingent on their home ground Clark says, "We learn something every time we race against them".
Voodoo Chile is Lang Walker's second Kokomo on charter to the Taswegians. Clark is wondering whether they might be asked to swap boats.
A second Royal Yacht Club of Tasmania crew, Stephen Boyes' Wired, has the third spot on the pointscore and a fair gap to close if they are planning to derail the frontrunners.
Walker's Kokomo is in fourth, on par with Estate Master's 16 points which has them sitting in fifth.
This weekend's Aberdeen Asset Management Farr 40 One Design Trophy is being conducted in conjunction with Middle Harbour Yacht Club's Sydney Short Ocean Racing Championship.
This evening all Farr 40 crews enjoyed a dock party thanks to Aberdeen Asset Management. Tomorrow the class' naming rights sponsor will entertain on the harbour.
PRO Phil Yeomans was pleased with the opening day in 10-13 knot sou'easters and a comfortable swell, and was unfazed by the close encounter with Transfusion. "It was all very pleasant today; there were no issues or recalls," Yeomans said.
Racing is due to start at 11am inshore tomorrow, Sunday 1 December 2013, with two or three races completing the Farr 40 weekend regatta. Light south-west to south-easterly breezes are expected to turn east to south-easterly 10-15 knots late morning.
Day 1 of the Aberdeen Asset Management One Design Trophy video highlights
Farr 40 Class One Design Trophy 2013
Hosted By Middle Harbour Yacht Club
Aberdeen Asset Management
Updated: 30/11/2013 15:25:40
Series Results [One Design ET] for Farr40 up to Race 4
Place Ties Sail No Boat Name Skipper Sers Score Race 4 Race 3 Race 2 Race 1
1 AUS6422 TRANSFUSION Guido Belgiorno-Nett 7.0 1.0 3.0 1.0 2.0
2 8888 VOODOO CHILE Lloyd Clark 8.0 4.0 1.0 2.0 1.0
3 AUS52074 WIRED Stephen Boyes 13.0 2.0 2.0 4.0 5.0
4 3.0S AUS8883 KOKOMO Lang Walker 16.0 5.0 5.0 3.0 3.0
5 AUS615 ESTATE MASTER Martin & Lisa Hill 16.0 3.0 4.0 5.0 4.0
6 007 EDAKE Jeff Carter 24.0 6.0 6.0 6.0 6.0

Results
Australian Farr 40 website Facebook link
Further information:
Jennie Hughes OR Lisa Ratcliff
Farr 40 Class Administrator On Course Communications
M: 0407 387 302 E: This e-mail address is being protected from spambots. You need JavaScript enabled to view it M: 0418 428 511 E: This e-mail address is being protected from spambots. You need JavaScript enabled to view it