Khaleesi and JustADash in winners circle at SSORC
Following the conclusion of racing, Andrew and Pauline Dally's DK46 and Phil Dash's JustADash have claimed the major trophies at the 38th Sydney Short Ocean Racing Championship (SSORC), hosted by Middle Harbour Yacht Club.
In one of the closest series, Khaleesi finished one point better than her stablemate and fellow MHYC member, Nine Dragons, owned by Bob Cox, taking the Division 1 spoils courtesy of winning Race 2, a windward/leeward course, which kick-started racing today.

Khaleesi in great form - Allan Coker, MHYC
Khaleesi, representing the host club, finished yesterday in a comfortable second place, ahead of winning Race 2 and then finishing third in the short offshore triangle race which followed a short time later.
One of the last three major offshore events prior to the Rolex Sydney Hobart, Andrew Dally said today's first race was extremely tough.
"The seaway was horrendous – very lumpy – it's hard helming when it's like that. That being said, we had a good 10-15 knot north-easterly and the racing between us and Nine Dragons could not have been closer," Dally said.
"We were neck and neck and neck around the course, within half a second of each other down the first run. It was absolutely awesome.
"In the second race, we made a wrong sail choice and they got away. We pulled them back a little, but finished sixth to their third – so it was a very close series and we're absolutely excited and thrilled to win," said Dally who went on to sing the praises of wife, Pauline, who apart from navigating them this weekend, also prepared the boat as Dally was away.
Bob Steel's new Mat 1180, Quest, was third, and Dally said Khaleesi and Nine Dragons continually pushing each other at regattas helped him overcome challenges from Steel's boat.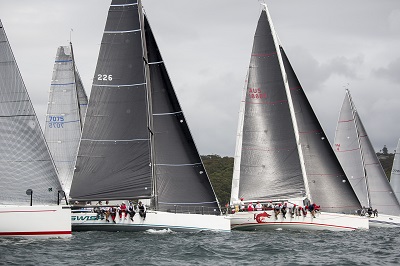 The fleet gets away today - Allan Coker, MHYC
"They are so quick on the reach. It's like we're standing still as they rocket past. We really had to make up time upwind, which meant correct sail selection and fluid crew work."
This is only the second time Khaleesi has beaten Nine Dragons at a major event. She won the CYCA Trophy in December last year, with Nine Dragons fourth and now the SSORC on home turf.
JustADash secured her second consecutive Division 2 victory. Capitalising on his win of yesterday, Dash steered his Beneteau First 40 to two further wins to take the division with a perfect score from Ian Box's XP44, Toybox 2 and Magic, the modified Mumm 36 owned by Peter McNamara, who has recently returned to sailing following a hiatus of some two years.

JustADash - second consecutiove win - Allan Coker, MHYC
Dash said today, that despite the scoreboard, Toybox 2, in particular, had kept the JustADash crew on their toes all weekend.
"Like yesterday, we got off to a good start in the windward/leeward race. Not an easy one as it was very lumpy on the course. Toybox 2 was in front of us at the first mark, but the trick was to keep in touch with them, and we did that," a happy Dash said this afternoon.
The Middle Harbour Yacht Club yachtsman has been without regular crew recently, so was more at home when most of his regulars returned for the SSORC.
"It made all the difference," Dash confirmed.
In the second race, Toybox 2 lost time when they had to retrieve a crew who had fallen overboard, and a possible win went by the wayside and fourth was the end result after a pair of second places in the earlier to races.
"It was great racing in good breeze that reached 20 knots. Toybox (Box is a past MHYC commodore) was our major competition this weekend. They sailed really well and pushed us hard," he ended.
Win, lose or draw, crews were all enjoying themselves back at Middle Harbour Yacht Club this afternoon, enjoying Lana Nesnas afternoon of layback jazz, a few drinks and a barbecue on the Club's beach.
Middle Harbour Yacht Club thanks its sponsors: Helly Hansen, Sydney City Marine and Club Marine for their long association with and support to the Club and its events and to Key Sun Laboratories and Performance Boating Sales.
For provisional results and all information on the SSORC, please visit: www.ssorc.mhyc.com.au/
Di Pearson, MHYC Media
Midnight Rambler and JustADash top podium in SSORC opener
Midnight Rambler and JustADash were the big winners on Day 1 of the Middle Harbour Yacht Club hosted Sydney Short Ocean Racing Championship (SSORC), in a race from Sydney Harbour to Lion Island and return today.
Midnight Rambler, the Ker 40 owned by Ed Psaltis, Michael Bencsik Bob Thomas, showed an incredible turn of speed to hold her larger rivals at bay and claim a massive four minute victory over the DK46, Khaleesi owned MHYC members by Andrew and Pauline Dally, with Bob Steel's three month-old Matt 1180, Quest, third.

Division 1 boats away - Midnight Rambler mid-line - Allan Coker, MHYC
Shore bound after falling off a ladder and fracturing three ribs and three vertebrae, Psaltis, who normally skippers Midnight Rambler, was nevertheless tuned into the race from start to finish, leaving the helming duties to crew member Tom Barker.
"Tom started sailing with us as forward hand, then he became our navigator and today, skipper. He did an excellent job skippering the boat today in the 12 to 14 knot east/nor-easterly. It gusted to 16 knots at times – but was not as strong as forecast," Psaltis said. "They set a Code Zero coming home and took off.
"The crew did a good job to keep the big boats behind them overall. They said they had a great race with Khaleesi and the other DK46, Nine Dragons (Bob Cox's yacht which finished fourth overall) – both well-sailed boats.
"We've been sailing fast all season and we're getting it right in terms of tactics - all in time for the Sydney Hobart. I just hope I'm healed in time to go south – that's what I'm working on now," he said from home late this afternoon.
In Division 2, defending champion, Phil Dash, sailed his Beneteau First 40 JustADash to a convincing two minute plus win over past MHYC Commodore, Ian Box's XP44, Toybox 2. Matt Wilkinson/Andrew Wylie's Ker 11.3, Kerisma, was third.

Division 2 winner JustaDash - Andrea Francolini, MHYC
Dash said this afternoon that the start on Sydney Harbour was key to their victory.
"We got an excellent start, and from there it was follow the leader. It was a pleasant 12-14 knots going up to Lion Island," Dash said.
"Coming back we set the Code Zero and then changed to our running kite – we experienced a bit of light stuff coming in the Heads and there were a few holes in the course along the way, but we held them off," ended Dash, who kept the remainder of his division behind them. He is charged ahead of the final two races tomorrow – a windward/leeward followed by a short offshore course.
Today's race also doubled as CYCA's Ocean Pointscore race. Midnight Rambler's win today puts her firmly in the overall lead and as such, she is also the Division 1 leader. Multiple OPS winner and defending champion, About Time (Julian Farren-Price) in second and Swish (Steven Proud) in third.
Psaltis was elated to find Midnight Rambler in the top spot and paid tribute to Tom Barker: "He did such a good job, props to him," Psaltis said. "Today was a real fillip – I've just got to get well for the Hobart."
Fourth place today was enough to keep Adrian Van Bellen's Jackpot in the Division 2 lead from Phil Molony's Papillon, with JustADash in third, one point behind Papillon.
Seven Islands Race
A bumper fleet of 33 took part, and despite Little Nico, the sexy Rob Shaw 11 metre skippered by Adrian Walters being the backmarker, starting at 1.18pm, she was crowned Division 1 winner. Andrew Pearce's Troppo took out Division 2, while L'Attitude (Robert Hunt/Jon Short/Miles Bastick) were too good, the victors of Division 3.

Little Nico heading down the Harbour in the Seven Islands Race - Allan Coker, MHYC
The pursuit style race started and finished at Middle Harbour Yacht Club, with the first boat away at 12pm. The course took in Fort Dennison, Cockatoo, Spectacle, Snapper, Goat, Clark and Shark Islands, giving ample opportunities for passing competitors.
This afternoon, yachties and friends were kicking back at Middle Harbour Yacht Club's beach, comparing notes ahead of tomorrow's final day, to the strains of the Sydney Groove Band. By 5pm, the post-race beach party, drinks, and sausage sizzle were in full swing.
Middle Harbour Yacht Club thanks its sponsors: Helly Hansen, Sydney City Marine and Club Marine for their long association with and support to the Club and its events and to Key Sun Laboratories and Performance Boating Sales.
For provisional results and all information on the SSORC, please visit: www.ssorc.mhyc.com.au/
Di Pearson, MHYC Media

Battle of the best in Seven Islands Race at Sydney Short Ocean Racing Championship
The annual stoush to be crowned the Seven Island's Race champion will be on again when Middle Harbour Yacht Club's 38th Sydney Short Ocean Racing Championship (SSORC), takes place over the weekend of 28 and 29 November.
A unique event, to be staged on Sydney Harbour on Saturday 28 November, the pursuit style race starts and finishes off MHYC, and takes in some of Sydney's most recognised islands either side of the Harbour Bridge. The yachts will pass Fort Denison to port on the way up and back and take in Goat Cockatoo, Snapper and Spectacle Islands.
There is a division to suit all tastes and sizes; from Spinnaker Divisions 1 and 2 and Division 3, to the Non-Spinnaker Division, for those who prefer to sail it in relaxing style while taking in the views. The event also denotes Race 1 of the Jeanneau Cup, this year sponsored by Performance Boating Sales, Jeanneau's official dealer.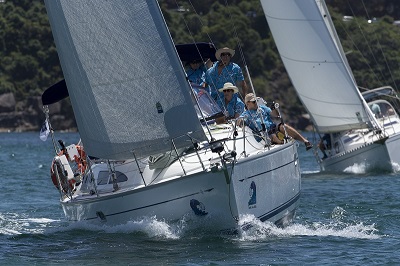 Lu Lu Belle leaving a few in her wake last year - Andrea Francolini, MHYC
Among the Jeanneaus, whose owners are hoping to sweep all before them, are: Eau Well, William Wade's SO349, John Egger's J31, Eggsilante, Peter Lewis' Sun Odyssey 37 Lu Lu Belle and Martyn Colebrook's 39i, Slac-N-off.

Contentious is the boat name - but they are a happy lot aboard - Andrea Francolini, MHYC
Entries for the Seven Islands Race alone, include some fun names: Fine Cotton, Mike Logan's Beneteau Sense 43, the Adams 10's Contentious (Brian Lees) and No Friends (Geoffrey Charters), Uputakiteup, Alex Stewart's Sydney 36 and Vaughan Cloros' Farr 40, PT 73 - no doubt named for the 1960's American sitcom, McHale's Navy.
What's not to like? Competitors arrive back to the Club to live music and a barbecue and a few drinks on the Club's beach. Then there are the great prizes for the winners and giveaways at the Presentation on the beach after the race.
"Competitors enjoy arriving back to the entertainment the Club provides during the SSORC," says Middle Harbour Yacht Club's Commodore, John McCuaig.
"On Saturday we've booked the Sydney Groove Band from 4pm on. It's funky, slick and fun for all ages," the Commodore says of the band which boasts over 20 years worldwide experience in a variety of top rated bands, theatre shows and corporate events.
Lead vocalist, Jeff Camilleri, has carved a successful career as a bass player, vocalist and guitarist, recording albums and soundtracks for local and international musicians, film and television. He has performed with some of the industry's leading artists including Human Nature, Mark Williams, Doug Parkinson, and Doc Neeson.
For Sunday afternoon from 3pm to 6pm, Sunday Sounds will entertain those taking part in the SSORC. Join Lana Nesnas for an afternoon of cool jazz and easy listening favourites. As lead vocalist, she performs regularly with some of Sydney's premier party and tribute bands and featured as Frida in international ABBA tribute, ABBASBACK.
"Competitors, their family and friends are all welcome," the Commodore says. "And the Club's Sandbar will be open for breakfast and takeaway both days from 8am. A lot of crews come along to catch up pre-racing in a comfortable fashion."
Middle Harbour Yacht Club thanks its sponsors: Helly Hansen, Sydney City Marine and Club Marine for their long association with and support to the Club and its events and to Key Sun Laboratories and Performance Boating Sales.
For all information on the SSORC, please go to: www.ssorc.mhyc.com.au/
Di Pearson, MHYC Media