Nine Dragons and JustaDash come from behind to claim Sydney Short Ocean Racing Championship titles
In big gusty winds, Bob Cox (Nine Dragons) and Phil Dash (JustaDash) came from behind to claim the Division 1 and 2 premier trophies respectively in Middle Harbour Yacht Club's 37th Sydney Short Ocean Racing Championship (SSORC) this afternoon.
Cox's crew revelled in the gusty north-east and northerly winds, sailing first a windward/leeward race, followed by a triangle/sausage course, winning both races to take Division 1 by five points from Darryl Hodgkinson's Cookson 50, Victoire (CYCA).

Nine Dragons - Division 1 Winner - MHYC
Victoire won the Lion Island Race yesterday, but failed to make an impression today, the reigning Rolex Sydney Hobart overall champion finishing fifth and fourth in the day's two races. Hodgkinson just scraped into second place overall, with local boats Andrew & Pauline Dally's Khaleesi and Ian Box's Toy Box 2 finishing one point behind.

Khalessi in full flight - Andrea Francolini, MHYC
Finishing third on countback, Khaleesi (formerly Exile), a sistership to Nine Dragons, and fourth placed Toy Box 2, an Xp44, were in turn a little lucky, as Paul Clitheroe's TP52 Balance was poised to finish on the podium, having taken third place in the windward/leeward, but broke gear in the gusty northerly, which at times reached 28 knots, and retired.
Bob Cox was elated with his victory, having finished bridesmaid last year and third in 2012. "Unbelievable," was the MHYC yachtsman's initial response.
"We were a little surprised to beat our sistership and we also had great racing with Victoire and Balance. Shame that Balance had broken gear; she was going really well. Full credit to Boxy too (Toy Box 2) he came up and sailed well today."
Mitch White, who sails with Cox, said conditions were tough and testing. "The windward/leeward was sailed in a 15-20 knot sea breeze. It was lumpy going uphill, so hard to steer, but Bob did a great job. It was good surfing downwind," White said.
By the second race, with a storm on approach, the wind was shifting to the north and became very gusty, keeping all yachties on full alert.

Division 1 yachts on the Harbour - Andrea Francolini, MHYC
"It was difficult sailing, but we were having great competition with Khaleesi. They were ahead of us, but we got them on the first downwind in the windward/leeward race. We got an awesome start in the second race and kept going from there."
Of their win, White said: "Much of the credit goes to James Corrie, a pro we hired who usually sails on Estate Master (Martin and Lisa Hill's Farr 40 One-Design). His trimming definitely gave us the edge."
Under ORCi, in which Nine Dragons was not entered, Victoire was the winner from Khaleesi and Balance.
Any disappointment Khaleesi's owners may have felt at not finishing on the top step of the podium was quickly overcome at the prizegiving, when they won the Sydney City Marine $4,000 gift certificate for a lift and antifoul. As an entry in the upcoming Rolex Sydney Hobart, Pauline Dally was very excited to win the generous prize.
It was a big day for MHYC boats, with wins in both Divisions. And much the same as Nine Dragons, Phil Dash came from behind to claim the spoils. There was a lot on the line, as he was defending champion from last year with his Beneteau First 40, JustaDash.

Division 2 winner JustaDash - Andrea Francolini, MHYC
Dash defeated second placegetter, Peter Mosely's BH36, Local Hero, by one point. Adrian Van Bellen's J/122, Jackpot (CYCA), slipped to third place overall after finishing at the top of the Series leaderboard yesterday.
"We won the windward/leeward race, and were looking good in the third, but we lost the kite sheet in a big gust coming into the Harbour to the finish at Watsons Bay, so finished second," Dash said. "The breeze was great offshore – very enjoyable.
"We had a good competition with Local Hero; they came second to us this morning on corrected time – and then they beat us this afternoon. We had two excellent starts today and I think it made the difference," Dash said. "It's very pleasing to win."

JustaDash preparing to race - Andrea Francolini, MHYC
Positions were reversed under ORCi; Local Hero won from JustaDash, with L'Altra Donna (CYCA) third.
Conditions over both days of the weekend gave all competitors a solid workout, with perfect north-easterlies on Saturday and gusty heavier winds today, causing many retirements and broken gear for many.
Middle Harbour Yacht Club thanks it sponsors and supporters: Helly Hansen, Sydney City Marine, Two Rivers Hunter Valley Wines, Key Sun Zinke, Club Marine and Vittoria.
Full results, photos and all information will be available at: www.ssorc.mhyc.com.au
Di Pearson, MHYC Media

Victoire and About Time gun boats at Sydney Short Ocean Racing Championship
Darryl Hodgkinson sailed his Cookson 50 to first place on Day 1 of Middle Harbour Yacht Club's 37th Sydney Short Ocean Racing Championship (SSORC), in the race from Sydney Harbour to Lion Island and return today.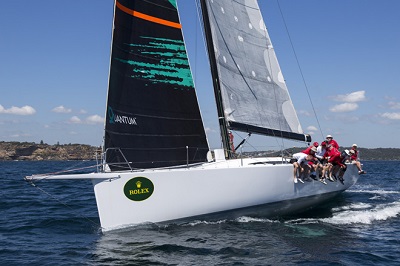 Victoire victorius - Andrea Francolini, MHYC
Hodgkinson, representing the CYCA, is preparing to defend his Rolex Sydney Hobart overall crown. Today brought him one step closer to that dream when he defeated Steven Proud's Swish, Bob Cox's Nine Dragons, a DK46 and 11 others in Division 1.
Victoire and Swish, a Kernan 44, finished top two in ORCi also, with Paul Clitheroe's Balance third overall and fourth in IRC, her recent run of wins coming to a halt today.
A smiling Darryl Hodgkinson spoke for all when he said "champagne sailing," adding, "It was a beautiful ride up – slightly cracked sheets. Coming home, we popped one of my new weapons," a new spinnaker tested for the first time today.
The Double Bay plastic surgeon said they were a "little bit lucky" to win, after selecting what he thought was the wrong sail to come home with. Fortunately, a slight change of the compass needle put them back in the picture.
"It was the most thrilling finish we've ever had. We got Triton (the champion LC60 formerly known as Vanguard and now owned by Michael Cranitch/David Gotze) by a bow. It was a little frightening; as we aimed for the pin end of the finish line in Watsons Bay there were three canoes right on it – I don't know how we missed them," he said.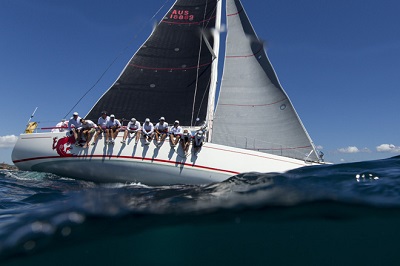 Bob Cox loads his Nine Dragons crew on the rail - Andrea Francolini, MHYC
Julian Farren-Price's unstoppable Cookson 12, About Time, dominated the other 13 yachts in Division 2, beating Adrian Van Bellen's J/122, Jackpot, by over four minutes on corrected time, and Rod Wills' X-43, Great Xpectations by exactly eight minutes.
Farren-Price also won ORCi, with Matt Bassett's BH36 Local Hero second, and JustaDash, Phil Dash's Beneteau First 40, third, after finishing fourth in IRC. And even though Divisions 1 and 2 are scored separately, they are on the same race course, prompting Victoire's owner to say, "Paul Clitheroe (Balance) and I are trying to gang up on Julian – he's an incredible sailor and very hard to beat."
The Sydney jeweller's About Time sailed parallel with Ian Box's XP-44, Toy Box 2, nearly all the way to Lion Island. "There was only a piece of string between us, until they overtook us just before we got to the Island," said Farren-Price, who later described his crew's work and the day as "ten out of ten."

About Time - yet another win - Andrea Francolini, MHYC
Farren-Price and a number of others' scores will count towards their Ocean Point Score tally in the CYCA series. He will not be on the course tomorrow, leaving the door open for others to come to the forefront, including Toy Box 2.
Initially, MHYC officials could not start the race at the appointed time, because the Harbour was glassed-out, more suited to swimming and canoeing than sailing, but 10 minutes later, at 10.10am, the nor'easter delivered 8-11 knots, allowing the fleet to aim for the mouth of the Heads in good time.
Once outside, the breeze piped in and continued to build throughout the race, basically north-east but shifting a little to the right at times. By the time the fleet turned for the finish line at Watsons Bay, a blaze of colourful kites could be seen from the Northern Beaches as breezes exceeded 15 knots.
In PHS, Walter Carpenter's Samarkand scored a win over John Anet's Precision and Laurence Freedman's Espresso Forte.
Seven Islands Race
Patrick Delany (Powerderhulk) took honours in the pursuit-style race which takes the fleet from the start off MHYC to many of the Harbour's best-known islands on both sides of the bridge and back to the finish off the Club. As expected, Brian Lees was in the money too, finishing second overall with his Adams 10, Contentious, while Geoffrey Charters' No Friends finished third.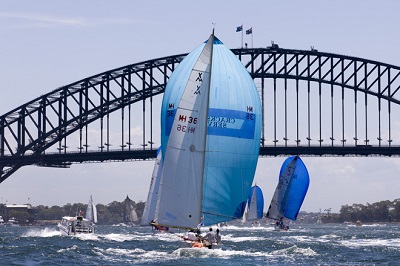 Geoff Charter's No Friends in third place heading up the Harbour - Andrea Francolini, MHYC
Eleven Jeanneaus also contested the race as part of a three-race series, and as predicted in the preview, the super-competitive Ron Jacobs came out on top, with Peter McClelland's Macscap second and Laurie McAllister's Zeusus third.
Late this afternoon, yachties and friends were enjoying a few well-earned drinks and a barbecue on the beach at Middle Harbour Yacht Club, while a band was tuning up, preparing the troops to let their hair down this evening.

Racing in the SSORC concludes tomorrow with a short passage race followed by a windward/leeward race which will decide the winners.
Middle Harbour Yacht Club thanks it sponsors and supporters: Helly Hansen, Sydney City Marine, Club Marine, Two Rivers Hunter Valley Wines, Vittoria and Key Sun Zinke.
Full results, photos and all information will be available at: www.ssorc.mhyc.com.au
Di Pearson, MHYC Media