MHYC's rich history in Offshore Sailing will have another chapter written as the 38th edition of SSORC on the 28 & 29 November as it marks the beginning of the regatta season in Sydney. Widely regarded as a tune-up for the serious yachts and crews campaigning for the annual dash to Hobart, the SSORC is also another opportunity for regatta regulars to break the shackles of winter and flex their muscle in the brilliant Sydney sunshine.
The format of the SSORC has been updated and tweaked over the last few years in response to what yacht owners are seeking, where a mixed discipline approach confirms a true champion.  SSORC 2015 has again had a re-vamp to appeal to a wider audience, so that a quality lineup can thrash it out over the last weekend in November.
 The main attraction is the widely popular Ocean Race with a return finish inside of Sydney Harbour. The offshore 'Passage Race' which has found its home on the first day of the regatta, will give yachts competing on either IRC, ORCi and PHS, a chance to really stretch their legs over the 34 nautical mile track. As part of SSORC 2015, the Ocean Race will form another leg of the CYCA Ocean Pointscore which will undoubtedly add to the superiority of the fleet.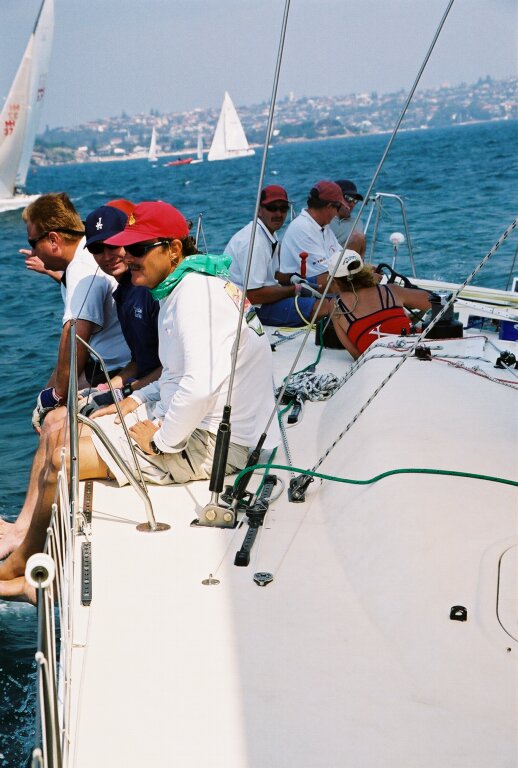 The hot racing action is sure to continue on the second day, with a fast and furious Windward / Leeward Sprint on the traditional Manly or Macquarie Circle, where after a final race, a Short Ocean Race starting offshore and finishing inside Sydney Harbour, will finalize the Championship placings over a short and sharp two days.
Adding to the spectacle will be the annual 7 Islands Race for inshore yachts on Saturday 28th.  An MHYC favourite, this is a Feature Race for all Saturday sailors and their crews from Clubs all over Sydney, which gives them a break from regular point score racing and allows them to join in the fun of Sydney's first major regatta of the racing season.
Tie all this up with the daily post-race entertainment and beach party on the shores of MHYC, a whole weekend of sailing splendour awaits you, your crew and family. Whether it's serious Championship racing, a challenging Inshore Harbour Course or a relaxing drink on our picturesque beach, the 38th Sydney Short Ocean Racing Championship is set to wet your appetite.
Notice of Race and Online Entry now available on the www.SSORC.MHYC.com.au website. 
Nine Dragons and JustaDash come from behind to claim Sydney Short Ocean Racing Championship titles
In big gusty winds, Bob Cox (Nine Dragons) and Phil Dash (JustaDash) came from behind to claim the Division 1 and 2 premier trophies respectively in Middle Harbour Yacht Club's 37th Sydney Short Ocean Racing Championship (SSORC) this afternoon.
Cox's crew revelled in the gusty north-east and northerly winds, sailing first a windward/leeward race, followed by a triangle/sausage course, winning both races to take Division 1 by five points from Darryl Hodgkinson's Cookson 50, Victoire (CYCA).

Nine Dragons - Division 1 Winner - MHYC
Victoire won the Lion Island Race yesterday, but failed to make an impression today, the reigning Rolex Sydney Hobart overall champion finishing fifth and fourth in the day's two races. Hodgkinson just scraped into second place overall, with local boats Andrew & Pauline Dally's Khaleesi and Ian Box's Toy Box 2 finishing one point behind.

Khalessi in full flight - Andrea Francolini, MHYC
Finishing third on countback, Khaleesi (formerly Exile), a sistership to Nine Dragons, and fourth placed Toy Box 2, an Xp44, were in turn a little lucky, as Paul Clitheroe's TP52 Balance was poised to finish on the podium, having taken third place in the windward/leeward, but broke gear in the gusty northerly, which at times reached 28 knots, and retired.
Bob Cox was elated with his victory, having finished bridesmaid last year and third in 2012. "Unbelievable," was the MHYC yachtsman's initial response.
"We were a little surprised to beat our sistership and we also had great racing with Victoire and Balance. Shame that Balance had broken gear; she was going really well. Full credit to Boxy too (Toy Box 2) he came up and sailed well today."
Mitch White, who sails with Cox, said conditions were tough and testing. "The windward/leeward was sailed in a 15-20 knot sea breeze. It was lumpy going uphill, so hard to steer, but Bob did a great job. It was good surfing downwind," White said.
By the second race, with a storm on approach, the wind was shifting to the north and became very gusty, keeping all yachties on full alert.

Division 1 yachts on the Harbour - Andrea Francolini, MHYC
"It was difficult sailing, but we were having great competition with Khaleesi. They were ahead of us, but we got them on the first downwind in the windward/leeward race. We got an awesome start in the second race and kept going from there."
Of their win, White said: "Much of the credit goes to James Corrie, a pro we hired who usually sails on Estate Master (Martin and Lisa Hill's Farr 40 One-Design). His trimming definitely gave us the edge."
Under ORCi, in which Nine Dragons was not entered, Victoire was the winner from Khaleesi and Balance.
Any disappointment Khaleesi's owners may have felt at not finishing on the top step of the podium was quickly overcome at the prizegiving, when they won the Sydney City Marine $4,000 gift certificate for a lift and antifoul. As an entry in the upcoming Rolex Sydney Hobart, Pauline Dally was very excited to win the generous prize.
It was a big day for MHYC boats, with wins in both Divisions. And much the same as Nine Dragons, Phil Dash came from behind to claim the spoils. There was a lot on the line, as he was defending champion from last year with his Beneteau First 40, JustaDash.

Division 2 winner JustaDash - Andrea Francolini, MHYC
Dash defeated second placegetter, Peter Mosely's BH36, Local Hero, by one point. Adrian Van Bellen's J/122, Jackpot (CYCA), slipped to third place overall after finishing at the top of the Series leaderboard yesterday.
"We won the windward/leeward race, and were looking good in the third, but we lost the kite sheet in a big gust coming into the Harbour to the finish at Watsons Bay, so finished second," Dash said. "The breeze was great offshore – very enjoyable.
"We had a good competition with Local Hero; they came second to us this morning on corrected time – and then they beat us this afternoon. We had two excellent starts today and I think it made the difference," Dash said. "It's very pleasing to win."

JustaDash preparing to race - Andrea Francolini, MHYC
Positions were reversed under ORCi; Local Hero won from JustaDash, with L'Altra Donna (CYCA) third.
Conditions over both days of the weekend gave all competitors a solid workout, with perfect north-easterlies on Saturday and gusty heavier winds today, causing many retirements and broken gear for many.
Middle Harbour Yacht Club thanks it sponsors and supporters: Helly Hansen, Sydney City Marine, Two Rivers Hunter Valley Wines, Key Sun Zinke, Club Marine and Vittoria.
Full results, photos and all information will be available at: www.ssorc.mhyc.com.au
Di Pearson, MHYC Media