SSORC: Brand new Patrice steals the show

Tony Kirby has sailed his brand new Ker 46, Patrice, to victory, stealing the show from Darryl Hodgkinson's Victoire for a second time in the Sydney Short Ocean Racing Championship (SSORC) hosted by Middle Harbour Yacht Club.

Having lost third place to Patrice in the Cabbage Tree Island Race earlier this month, Hodgkinson had his Cookson 50 nicely positioned in the lead coming into today's final two races of the SSORC. However, his fifth in Race 2 and fourth in Race 3 could not compete with Patrice's win and second place respectively.



Patrice powered up to win Division 1 in the SSORC - Andrea Francolini, MHYC
Middle Harbour YC locals got their own back too, when Bob Cox's Nine Dragons also leapt past Victoire to claim second place, the DK46 pulling second and third places in the two races which were sailed in mixed conditions."The forecast was for 8-10 knots, but a squall came through offshore in the first race and we saw 16-18 knots on the dial and the wind was going left and right," said Tony Kirby who was ecstatic with his new yacht's performance and his first regatta win.
"

Nine Dragons finished second overall - Andrea Francolini, MHYC
Coming into the SSORC, we had only done the Cabbage Tree Island Race, so we're really excited to win our first race (today) and the regatta," Kirby, from the Cruising Yacht Club of Australia said.
It was very light in the second race (a two lap windward/leeward course), and swinging 20-30 degrees. If Patrice was going to have a weak point, I thought light air would be it, but no, she handled it so well. I'm so happy with the boat and feeling confident with the Southern Cross Cup and Hobart coming up."
According to Kirby, "Victoire was always there. We beat her out the Heads and up to the next mark, then she overtook us downwind. It was very close," he said of Hodgkinson's boat, which beat them to the punch on line by just over a minute, but Kirby collected on corrected time by just over three minutes.
In Race 3, the windward/leeward, Patrice was outgunned by Steven Proud's Kernan 44, Swish. "They sailed really well in the tricky breeze; they deserved to win," Kirby said.
In Division 2, Phil Dash cleaned up with his Beneteau 40, Just a Dash, continuing his winning form of yesterday, finishing second in Race 2 of the series today and moving up a notch to claim victory in the windward/leeward Race 3. After protests were heard, Andy Kearnan's Summit 35, L'Altra Donna, prevailed to finish second overall with Nigel Smyth's Mat 1010, Tomato third overall.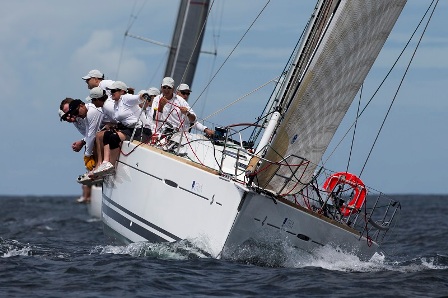 Just A Dash - well named Division 2 winner - Andrea Francolini, MHYC
"It was very hard sailing today – the wind was all over the place and we got more than we bargained for when the wind squall came through in Race 2," Phil Dash, from the host club said. "We were over early at the start of Race 2, and had to return, but we clawed our way back," he said.
"It was very tricky and shifty, but the boat went well the whole time. We've been sailing the boat well for a time now, but we had very good opposition from especially L'Altra Donna (which won Race 2 from Just a Dash by a mere 23 seconds), so it's a good result to win the regatta," Dash admitted.

L'Altra Donna, which finished second in Division 3 last year, bounced back from fourth place yesterday to claim victory in Race 2 and second place in Race 3, which lifted her up onto the podium.

L'Altra Donna in good form - Andrea Francolini, MHYC
The top three in the Performance Class are provisional only, as there are protests being held that could affect the current top two results, which show Never A Dull Moment (Colin and Denise Wilson) first, Walter Carpenter's Samarkand in second and Thompson Moore's Shibumi third. Official results will be known after the protests are heard.

For full SSORC results, including divisional placings, go to: www.ssorc.mhyc.com.au
Di Pearson, MHYC Media
Media Enquiries:
Di Pearson,
Middle Harbour Yacht Club media
Email: This e-mail address is being protected from spambots. You need JavaScript enabled to view it
Phone: 0410 792 131
High res photos available via Andrea Francolini – www.afrancolini.com